Discuss-Here Office provides a solution to your meeting troubles.
Moreover, it will take your thoughts one step further
with intelligent support.
What is 'Discuss-Here Office' ?
Discuss-Here Office is a Discussion and Thinking Organisation tool to help you to "Think Better".
It provides smooth teleconference and efficient regular meetings to you. Moreover, you can understand your thinking pattern by intelligent support. And these features reduce meeting time and then more productive time will come to your team.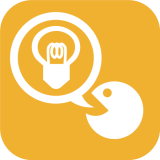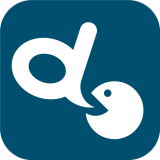 Make a smooth teleconference
A phone meeting with a far away branch, or a video conference with an overseas location.
Discuss-Here Office combines all the great things about remote meetings with none of the inconveniences.
Difficult to understand the current point of discussion and flow of conversation
The usual conference room is unavailable

The Discuss-Here Office iOS app features real time screen sharing alongside discussions, to follow the conversation and view the current discussion points at a glance
You can participate in a discussion anywhere there is internet access, and using the inbuilt general chat and messenger functions you can even participate in meetings from your desk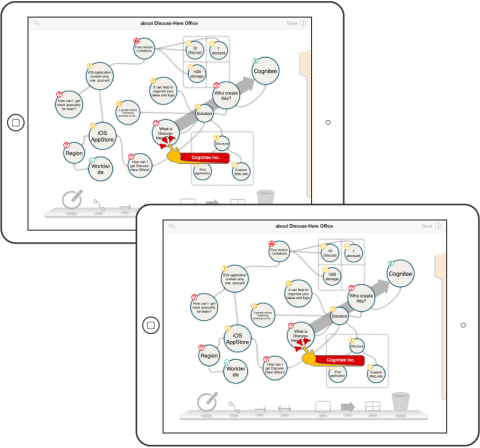 Discuss-Here Office iOS app helps 'Visualize thoughts' to make it easier to consider everything, and combined with the exclusive Online Meeting tool, these enable any number of people to participate in the discussion online using the real time screen sharing to visualize the meeting.
Using pointers to indicate the current topic, you can easily indicate what the current discussion relates to, and via the visual meeting screen this helps others to understand the flow of conversation and the successes of the meeting.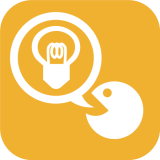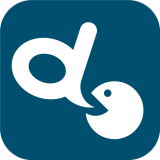 More efficient meeting
No matter your intentions, often meetings end without a result, leaving you with feelings such as "Did we really give that enough discussion?" or "I'm not sure what our next action should be". To make sure you make the most of valuable meeting time and achieve your goals, it is important to have a meeting plan and take meeting minutes.
However, this in itself takes more time that busy businessmen and women such as yourselves may not have. We want to help you regain this wasted productivity.
It's wasteful to use resources just for the sake of a meeting
Whiteboards take up extra time as they need to be cleaned straight away after every meeting
Summarising the meeting to create and send out minutes takes a lot of hard work

When you use the app to do your meeting prep, it is easy to reuse previous points, and any resources needed can be prepared before the meeting, giving preparation more value and allowing time to focus on discussion in the meeting itself.
Without having to use a whiteboard or post-its, Discuss-Here Office keeps everything together and does away with the clean-up, so that even if you are interrupted mid-meeting it is easy to pick up where you left off.
After the meeting, with just one click you can use an exclusive portal to access a report on the meeting's progress.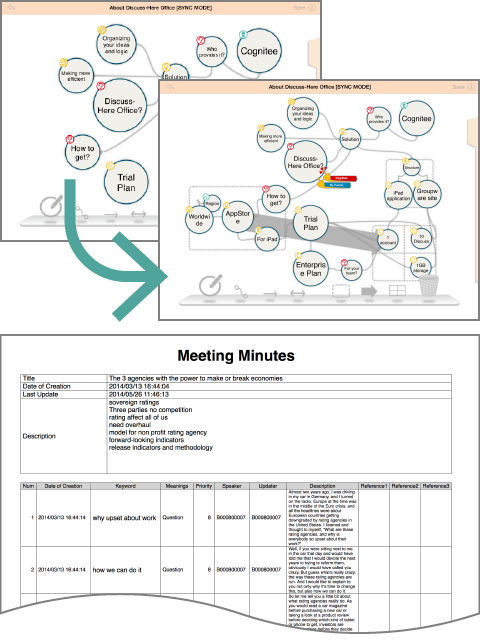 Discuss-Here Office can be used before, during and after meetings, to effectively prepare and summarise meetings, allowing you to concentrate on the meeting itself. You can clearly see the points that went into preparing the meeting, and these discussions can be referred to in the during the meeting.
If the meeting ends halfway through due to time constraints, you don't need to clean up or set up again for the continuation. You can pick up where you left off at any time. Once the meeting is finished, you can use the exclusive Web portal to access the Meeting Minutes in one click, and at a glance you can review which thoughts were brought up and when, as well as the entire flow of the conversation.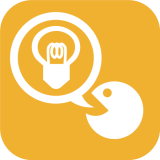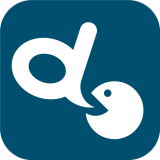 Intelligent support for your thoughts
When you consider something, you may not be fairly taking into account all the aspects of the issue.
Discuss-Here Office recognises that humans have this weakness in our thinking, and makes suggestions to make up for this short-coming.
Even when we want to consider something objectively, our own subjective thoughts create bias
In meetings and brainstorm sessions we have a tendency to stick to own our thought patterns

Based on unique experiments using patterns from "easy to understand texts" and "ideal/logical texts", the app is able to make suggestions where there are logical issues, bias or insufficiencies.
The exclusive web portal features an analysis tool that shows a number of valuable statistics such as "Ideas per minute" and "Top 5 Most Important Discussion points", as well as providing "Contrast with other discussions/brainstorming sessions". This enables you to understand trends and use them to improve.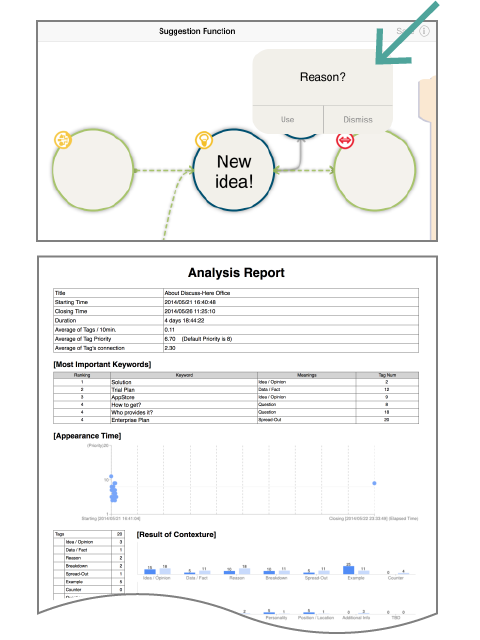 Unlike other tools for organising thinking, Discuss-Here Office has taken steps towards intelligently supporting human thinking.
There are many methods for logical thinking, but there are few which can think logically in real time while picking up logical omissions and insufficiencies. On top of this, as this is after all a tool to support your thinking, it bound by the rules of your own way of thinking and will not intrude.
By using the Analysis Tool's Self Brainstorming and Meeting Preparation Resources, you can grasp bias and insufficiencies, and among other things, create more persuasive presentations.